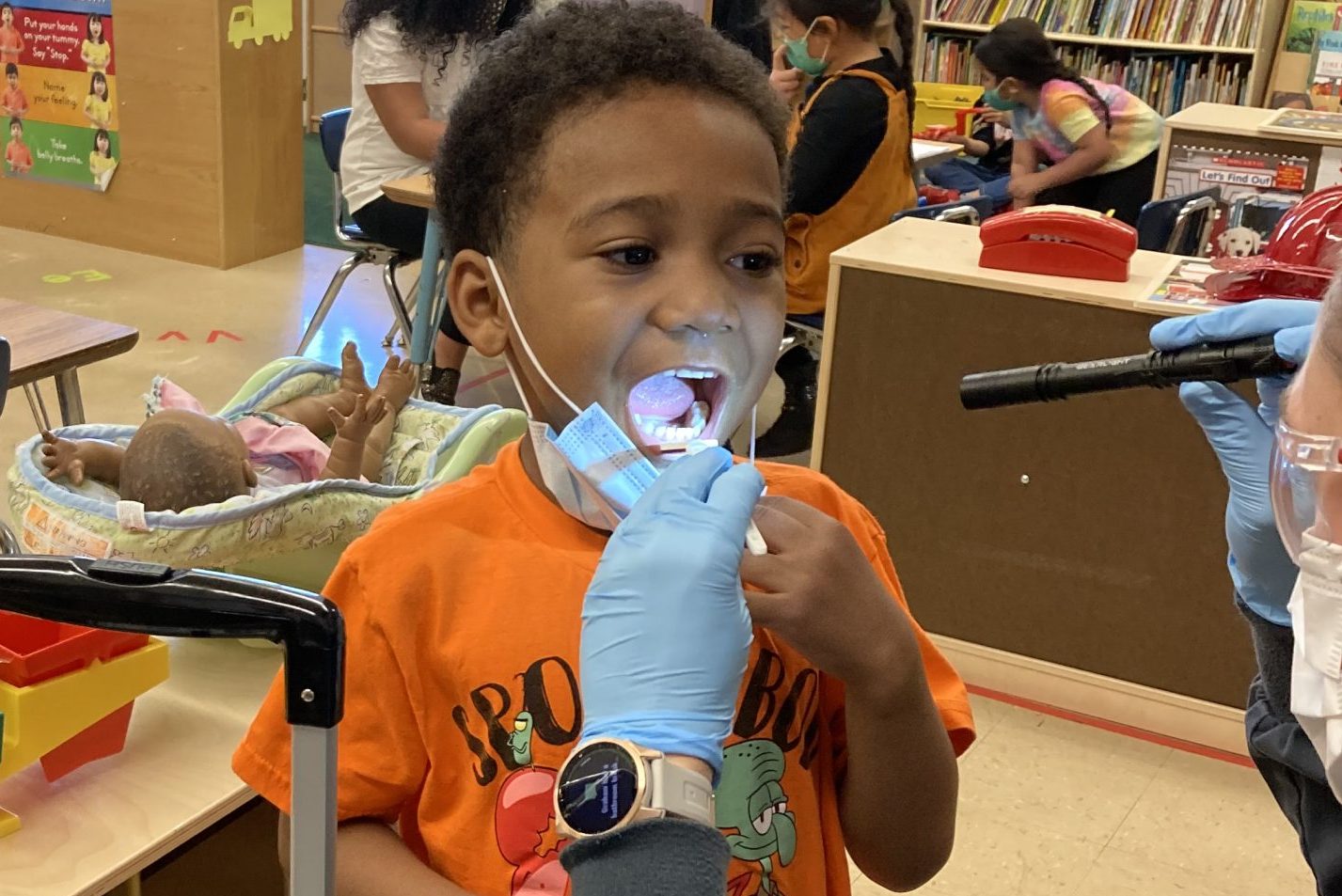 About All Smiles
All Smiles was formed in 2014 as a unique partnership of Medicaid Dental Plans, Coordinated Care Organizations and Community Partners to advance the goals of transformation by furthering oral health in the Portland Oregon metropolitan community. This is accomplished by providing and coordinating oral health preventive services in alternative care settings. At its core, All Smiles functions as a "public health overlay" with a community focus, pulling together disparate systems of health and safety net structures to align under a common coordinated approach to meet the needs of Medicaid eligible individuals and other populations in need.
All Smiles and its partners provide community based services to reach those individuals who might not otherwise seek care, connecting them to the system through outreach. Providing services in community settings increases overall capacity for less cost. Better communication and improved connectivity reduces unnecessary treatment and increases prevention services. Risk assessments and early interventions decrease disease burden. Shared services for common responsibilities (encounter data, member navigation) reduces administrative costs.
All Smiles acts as a coordination "hub" for community based oral health prevention services by working together with community partners to align efforts, reduce duplication and create a system of care for community based oral health preventive services. All Smiles collects extensive oral health data for all individuals who receive services. This centralized community level data will allow the ability to track populations over time to evaluate the effectiveness of oral health prevention services.
Community Based Services
Classroom/Parent/Teacher Education: Oral health educational resources and classroom presentations are provided to increase understanding of the importance of good oral health habits and prevention (fluoride, sealants) to reduce cavities.
Dental Assessment: A visual survey of the mouth which assesses the presence of untreated decay, treated decay, urgent dental problems and the presence or need for dental sealants.
Fluoride Varnish Application: A fluoride treatment is painted onto tooth surfaces to prevent decay.
Sealant Placement: Dental providers apply sealants, thin glass ionomer coatings that when painted on the chewing surfaces of the back teeth (molars) can prevent cavities (tooth decay) for many years. Sealants protect the chewing surfaces from cavities by covering them with a protective shield that blocks out germs and food. Once applied, sealants protect against 80% of cavities for 2 years and continue to protect against 50% of cavities for up to 4 years.
Navigation: All Smiles plays an important role in helping to coordinate needed dental care and addressing any potential barriers. Families who have children that are identified as needing follow-up dental treatment are contacted and assisted with connecting to a dental provider for ongoing dental care. In addition, All Smiles has partnered with several dental providers who provide services free of charge for uninsured children.
Advancing Equity and Access to Improve Oral Health Outcomes
All Smiles Community Oral Health serves about 300 community-based sites including K-8 public schools, qualifying preschools and residential care communities for foster youth and women who are in recovery from substance use disorders and their dependent children.